Near my office, there is a very large Sainsbury's. And in this very large Sainsbury's, there is an incredibly well-stocked salad bar.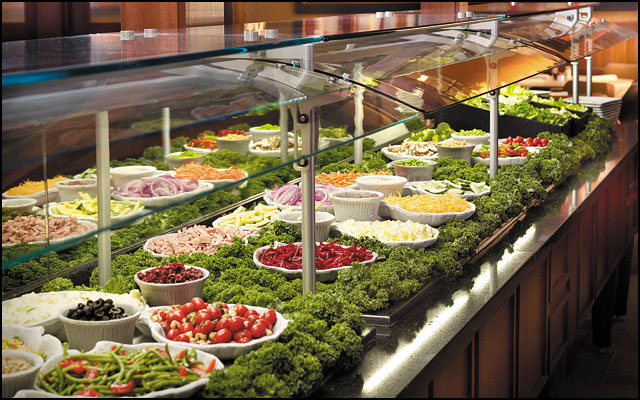 I don't know if this is the only salad bar in the area, but the mystique around this particular salad bar implies that it is the only one of its kind, ever. Truly, it is the one salad bar to rule us all. Around 11.30 every morning, people from the neighbouring offices start whispering about the Sainsbury's salad bar. They shiftily begin putting on their blazers and remind one another that "We better get there early, if we're going to beat the queue."
They divide into packs of three and four. But wait, Pete is still on a call. Pete wanted us to wait, because he wanted to go to salad bar, too. Pete has been talking about the salad bar's Coronation Chicken all morning.
But wait, the pack responds. Pete knew what he was getting into, when he took that call.
It was Pete's decision to make that call.
Pete can just go to the salad bar later. Fuck Pete.
And so, like a wounded soldier, Pete is left behind. The pack carries on. At this point, with all the procrastinating about whether the pack will wait for Pete or not, it is now 11.55. The salad bar is in full swing. There is a queue looping around Sainsbury's. One member of the pack wonders aloud if the salad bar is worth waiting for. And couldn't we just go to Subway?
Her lack of faith in salad bar is snarled at by the alpha members of the salad pack. She breaks off. The pack is now down to two.
There is now a queue of sixty people waiting for the salad bar, standing with plastic bowls, ready to scoop Moroccan cous cous, stuffed red peppers and goats cheese into them. There is no talking in the salad bar queue. There is only hunters, ready to pounce. Irritated, they tap lethargically on their iPhones, absurdly well dressed and bored. Then their time comes, and they move through the ladles of salad swiftly, balancing different flavours together in accordance with the diagrams they have been drawing all morning. They pay their £2.99, and they bring their bowl back to their office, where they will eat it at their desks.
I have observed this trend for several weeks now, and have always found it to be particularly bizarre. I couldn't figure out if people were militantly planning their day around cherry tomatoes and croutons because they enjoyed the structure of the routine or because the croutons were really that good. So on Friday, I decided that I had been working in the area long enough to finally succumb to the charms of the salad bar.
I stood in line. I tapped on my iPhone. I adjusted my blazer, now clammy from standing too near the sausage roll heating tray. I slammed different kinds of salad into my plastic bowl, with an amateurish lack of skill on how well the tastes went together. People behind me sighed at my indecision. I paid, went back to my office, and ate my salad bowl at my desk.
It was absolutely delicious, and completely worth it.
Drawing: Natalie Dee